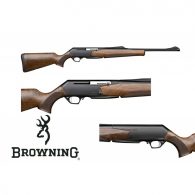 Browning BAR MK3 HUNTER Fluted cal. 9,3×62, 300WM, 30-06; 308win
An anodized black receiver, brushed side-faces, top and bottom and the stock and fore-end in grade 2 oil-rubbed walnut : The BAR MK3 Hunter is the end-result of particularly neat and inventive work.
Fitted with an adjustable foresight, its 53 cm piped barrel possesses a new profile that emphasizes even more the accuracy of a gun that also offers excellent firing sensations thanks to its Super Feather Trigger system.
Available in four calibres (308, 30-06, 300WM and 9.3X62), the BAR MK3 Hunter is equipped with different accessories so that it can be adapted just as closely as possible to the shooter's morphology. A rifle that contains a whole host of surprises…


| | |
| --- | --- |
| Barrel length (mm-inch) | 530-21 |
| Barrel | Fluted |
| Barrel finish | Blued |
| Sights | Fibre optic |
| Magazine capacity | 4 in Std 3 in Mag |
| Wood grade | Grade 2 |
| Wood | Oil finish |
| Stock style | Pistol grip stock |
| Length | 360mm |
| Forearm | Tulip |
| Weight | 3,30 Kg & 3,35 Kg |
| Notes | Gun lock, swivels |
| Packaging | ABS Case |